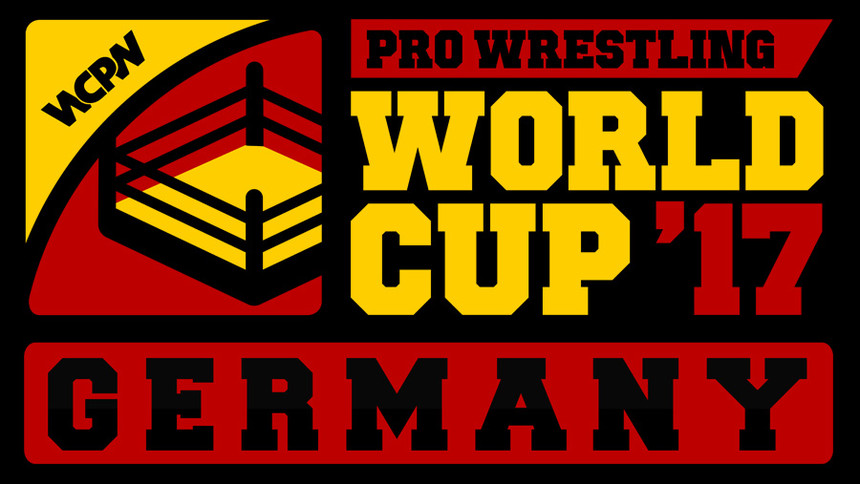 Pro Wrestling World Cup '17 (German Qualifier)
The Pro Wrestling World Cup comes to Berlin! For the very first time, WCPW - in association with the Germany Wrestling Federation - will be in Germany on July 2nd, 2017.
---
Der Pro Wrestling World Cup kommt nach Berlin. In Zusammenarbeit mit der German Wrestling Federation findet in der Hauptstadt die deutsche Qualifikation des Turniers 2017 statt. Die Veranstaltung umfasst ein 8-Mann-Turnier, bei welchem sich zwei Teilnehmer für das große Finale im August qualifizieren werden.
Außerdem wird es zahlreiche WCPW Matches geben, denn zum ersten Mal kommt WhatCulture nach Deutschland!
Die Turnier-Teilnehmer:
Bad Bones v Pascal Spalter
Cash Money Erkan v Crazy Sexy Mike
Da Mack v Tarkan Aslan
Juvenile-X v Lucky Kid
Außerdem werden dabei sein:
Joe Hendry
Primate
Gabriel Kidd
Joe Coffey
Alex Gracie
Kenny Williams
The Hunter Brothers
Informationen zu den Tickets:
Stehplatz: 15 Euro
Sitzplatz, Reihe 2-3: 25 Euro
Sitzplatz, Reihe 1 (VIP): 50 Euro
Karteninhaber für Sitzplätze in der ersten Reihe werden bereits um 17:30 Uhr Zutritt zur Veranstaltungshalle bekommen und haben die Möglichkeit, einige der Wrestler vor dem Event zu treffen. Außerdem besteht die Möglichkeit mit WhatCulture YouTube-Mitarbeitern ein Foto im Ring zu machen.
Zuschauer unter 14 Jahren müssen von einer volljährigen Person begleitet werden.
Sofern möglich bitten wir darum, die Tickets auszudrucken und beim Einlass vorzuzeigen (anstatt der Anzeige auf dem Smartphone).
Veranstaltungsort und Zeitplan:
Huxleys Neue Welt, Hasenheide 107, 10967 Berlin
Früherer Eintritt (Reihe 1): 17:30 Uhr
Regulärer Einlass: 18:15 Uhr
Beginn der Show: ca. 18:45 Uhr
Ende der Show: ca. 22:00 Uhr
This event has concluded.
Matches