No Regrets Rumble Returns To Newcastle
Two huge shows coming up in Newcastle on March 26 and April 28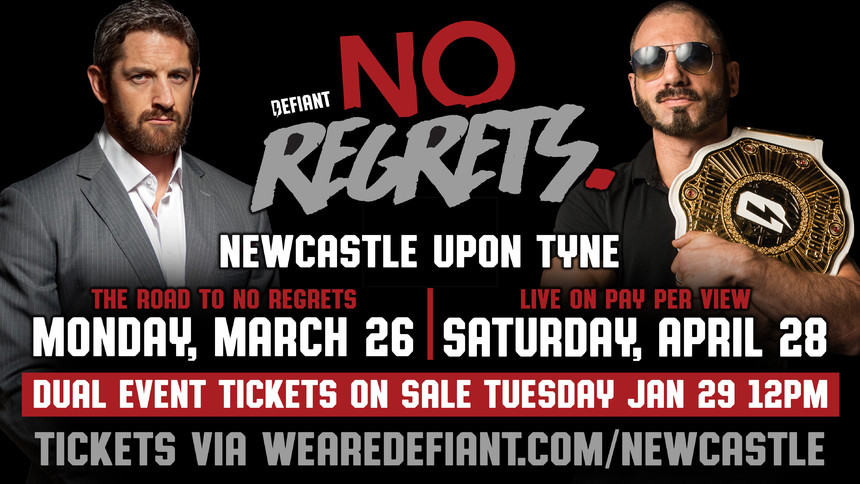 Defiant Wrestling returns home to Newcastle for TWO huge shows on Monday, March 26th and Saturday, April 28th. Tickets are available from 12pm on January 30th for dual entry to BOTH shows. Individual event tickets may go on sale at a later date.

Click Here for tickets.
CONFIRMED FOR MARCH 26
We are on The Road To No Regrets, with over 10 matches scheduled for our YouTube taping.
Jimmy Havoc, Primate, Martin Kirby, Rampage, Joe Hendry, El Ligero, Kay Lee Ray, Millie Mckenzie, Travis Banks, Chris Brookes, Gabriel Kidd, Prince Ameen, Drake.
Many more to be added over the coming weeks.
CONFIRMED FOR APRIL 28
The 30-man No Regrets Rumble returns to Newcastle and will broadcast around the world on on PPV via Access Defiant and FITE TV.
All of the stars featured above on March 26th, plus Defiant General Manager Stu Bennett (formerly known as Wade Barrett) and Defiant Champion Austin Aries.
TICKETS
Row 1 (includes early entry): £60
Row 2: £47.50
Row 3: £40
General Admission (Row 4+ or standing): £32.50
If purchasing a seat in the first three rows you must sit in your assigned seat.
Two row 1 and two general admission wheelchair spaces are available (includes free carer ticket). Customers who have other access requirements, please contact support@wearedefiant.com ahead of purchase.
No refunds at any time, except in the event of cancellation.
VENUE AND TIMES
Domain, Northumbria Students Union, NE1 8ST.
Early Entry: 5.45pm
Main Doors: 6pm
Show Start: 6.30pm
Approx Finish: 10pm