Magnificent Seven: Full Card & How to Watch
Live on Saturday March 16th, from The Point, Sunderland.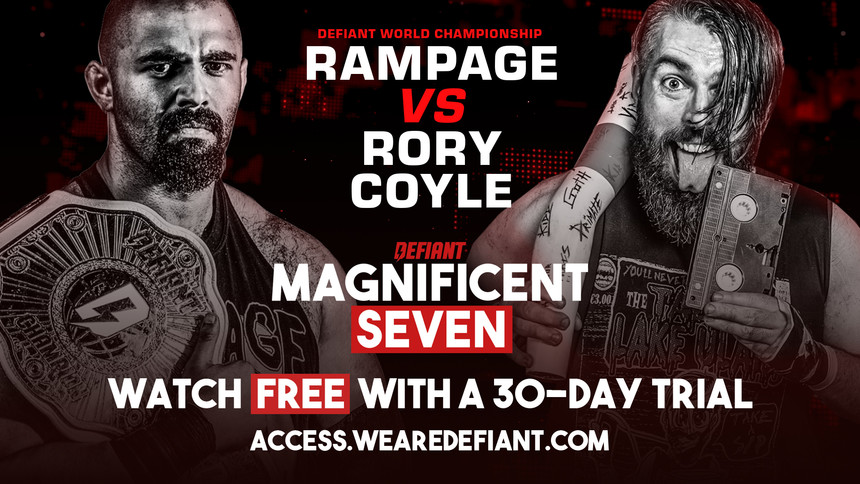 Defiant Wrestling comes to Sunderland for the very first time for the first ever Magnificent Seven PPV! The annual Magnificent Seven elimination match will be accompanied by tons of action on PPV, as well as a taping of one of our weekly episodes of Loaded (airs the following day on YouTube).
You can still be there in person with tickets available starting at £15 from Eventbrite.
Watch online with Access Defiant, with a 30-day free trial for new customers. Monthly membership is just £7/$8.99, and includes full access to the WCPW/Defiant archives, as well as discounts on tickets and additional bonus content.
This show will be broadcast live, with an approximate start time of 6:30pm. The high-resolution replay will be available approximately 24-hours later.
Rampage (C) vs Rory Coyle - Defiant World Championship
After defeating Primate in his last Defiant match at our last iPPV, Rory Coyle has now targeted Rampage, the longest reigning World Champion, in a match that has become increasingly personal. Rory Coyle has attacked Rampage both after a match, and at his training school, and is trying to entice the Animal out of Rampage. Could it be the rise of the Sick Boy, or will the record breaking reign continue?
Kanji (C) vs Lana Austin vs Lizzy Styles - Defiant Women's Championship
Following defeats at the hands of recent debutant Lizzy Styles and her new ally in Lana Austin, Women's Champion Kanji was ready to vacate her Championship, but after being convinced to continue by General Ameen, Kanji demanded to face off against both of her recent rivals, who as of late have had her number. Can Kanji retain against the odds against Lana and Lizzy, and can Lana and Lizzy stay on the same page when it comes to the Women's Championship?
Visage vs Los Federales Super Santos Jr vs MJF vs Man Like Dereiss vs Benji vs HT Drake vs Conor Renshaw - Magnificent Seven Briefcase
The yearly Magnificent Seven match returns, with 7 competitors all competing for the briefcase, with this year the winner being able to go after any Championship of their choosing at any time of their choosing. Joining wildcard pick MJF are Visage, Los Federales Super Santos Jr, Man Like Dereiss, Benji, HT Drake and Conor Renshaw, who all picked a green lolly out of assistant assistant manager Adam Foster's sack to earn their way into the contest. Who will win the golden ticket which almost guarantees a Championship reign of his choosing?
Martin Kirby (C) vs El Phantasmo - Defiant Internet Championship
A match which was meant to happen at Unstoppable, El Phantasmo will finally get a one on one Internet Championship match. The newest member of Bullet Club and a man recently reunited with his LED Glasses takes on Martin Kirby, a man who refuses to defend his Championship on YouTube, who is a fierce competitor in his own right, being the only person to defeat Walter, although under dubious circumstances. Who will come out on top in the battle for the prestigious Internet Championship?
No Fun Dunne (C) vs Omari - Defiant No Fun Championship
The recently rebranded Hardcore Championship has now become the No Fun Championship at the hand of No Fun Dunne and the Anti-Fun Police. Omari, one of the standout new talents found during the Ringmaster Tournament last summer, has found himself at odds recently with Dunne, and following a week long chase, Dunne offered him a No Fun Championship match for Magnificent Seven. Will No Funnahh continue in Defiant, or could Omari win his first Championship?
Joe Hendry vs Gabriel Kidd
Two men who have been with Defiant since day one will compete for the first time in a long time. In their last match, Joe Hendry was the clear favourite over the then winless Gabriel Kidd. This time however, the contest is on a knife edge, and after Gabriel Kidd attacked David Starr, ruining Hendry's planned match with Starr and earning himself a suspension, The Young Bull is back to make a statement, but Hendry is out for revenge against the man who ruined a Defiant dream match.
Justin Sysum vs John Klinger
In a rematch from Unstoppable, John Klinger will go up against the man he brutally attacked post-match following his loss, Justin Sysum. After needing a month to recover from "The Badness"' attack, is Sysum at 100% for this contest, and will he be able to make it 2-0 against Klinger, or will Klinger be able to enact his revenge and add further credit to his claim as Europes most dangerous wrestler?