Unstoppable: Full Card & How to Watch
Live on Saturday, February 9th, from Manchester Academy, Manchester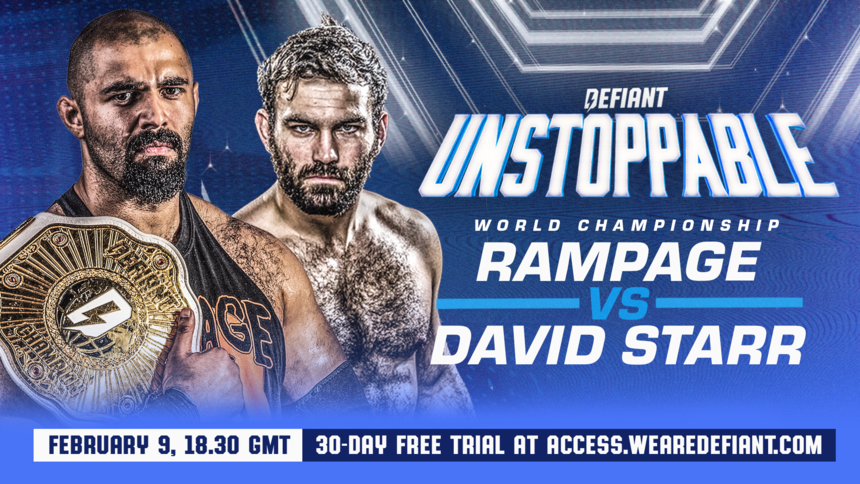 Defiant Wrestling returns to Manchester for the first time since August, and for the first time at Manchester Academy, for a huge night ofaction as we present Unstoppable!

You can still be there in person with limited tickets available at £16 from Eventbrite.
Watch online with Access Defiant, with a 30-day free trial for new customers.
This show will be broadcast live, with an approximate start time of 6:30pm. The high-resolution replay will be available approximately 24-hours later.
Rampage (C) vs David Starr – Defiant World Championship
After waiting almost a year, and coming up just short in the No Regrets Rumble and the Ringmaster Tournament, an impressive showing in defeat has earned David Starr a World Championship match. On the other side of the ring, stands the longest reigning champion, Rampage, who waited an extremely long time to get the Championship himself. Can David Starr finally win the big one, or will Rampage's reign continue?
Martin Kirby (C) vs El Phantasmo – Defiant Internet Championship
As an apology for the loss of his LED glasses, El Phantasmo has been given an Internet Championship match. More than just a pity championship match, in his last attempt he was not the man defeated. This will be Martin Kirby's first defense since winning by any means necessary, but will he resort to those sorts of tactics again to fend off El Phantasmo, or can Kirby start his reign off successfully?
Jimmy Havoc (C) vs No Fun Dunne – Defiant Hardcore Championship
Since arriving in Defiant in 2018, No Fun Dunne has done everything he can to stop the fun in Defiant, and no one embodies fun more than the Hardcore Champion, Jimmy Havoc. After manipulating General Manager Prince Ameen into giving him a title match under "anti-hardcore rules" Dunne has to be viewed as the favourite, with Havoc unable to use weapons, but does Havoc have a trick up him sleeve?
Aussie Open (Mark Davis and Kyle Fletcher) (C) vs CCBlaaah (Chris Brookes and Lucky Kid) – Defiant Tag Team Championship
After coming up short last time against Mark Davis and Kyle Fletcher, Chris Brookes pleaded for one more Tag Team Championship match, with regular partner Kid Lykos. Unfortunately, Lykos is unavailable due to injury, but he will be replaced by the very capable Lucky Kid. This is going to be an uphill battle for the duo however, as Aussie Open have a stranglehold on the Tag Team scene and are arguably one of the best teams in the world, let alone in Defiant.
Lana Austin vs Bea Priestley – Falls Count Anywhere
Former Womens Champion Bea Priestley will go one on one against the woman who cost her that belt with a well-placed chair attack in Lana Austin, in all Falls Count Anywhere match. This match promises to be wild, with Lana Austin well known for using chairs to her advantage, and Bea Priestley being out to settle the score with a woman who she has waited months to get her hands on.
John "Bad Bones" Klinger vs Justin Sysum
John Klinger has been on a warpath in Defiant since returning after a year away at the Ringmaster tournament. He has come very close to winning the World Championship, and at Unstoppable he faces off against TV famous Justin Sysum, of WoS Wrestling fame, who returns after a long time away. Who will come out on top in this huge match up?
Omari vs Nathan Cruz
Since both making their mark in Defiant during the Ringmaster tournament last summer, Omari and Nathan Cruz have become integral parts of the Defiant roster. Now, following Cruz's attack on Omari, Omari pulling off an upset victory, and then Cruz violently attacking Omari's friend Man Like Dereiss, the up and comer Omari will go one on one once again with The Professional Nathan Cruz.
Gabriel Kidd and Rory Coyle vs Joe Hendry and Primate
Remember The Yard. The cryptic message that Rory Coyle gave to Primate when turning on him seemed like madness from a mad man, but since "The Yard" premiered, Coyle's reasoning became clear. He feels betrayed by Primate abandoning him more than 2 years ago, and has aligned himself with Primate's long-time rival, Gabriel Kidd. Adding Joe Hendry into the mix, who was on his way out of the door before he defended Primate after Coyle attacked Primate during his and Kidd's match, and this one is a powderkeg ready to explode.
WATCH LIVE ON SATURDAY, FEBRUARY 10, WITH A FREE TRIAL OF ACCESS DEFIANT.