Lights Out '19: Full Card & How To Watch
The third annual Lights Out PPV event broadcasting live from Leeds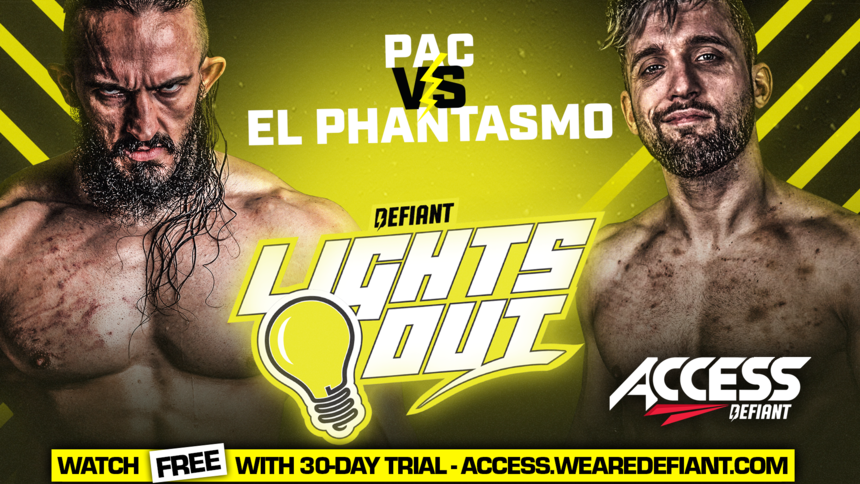 Watch Live Wednesday, April 17th with Access Defiant or be there live with tickets from Eventbrite.
Defiant Wrestling returns to Leeds for the first time in over a year for the third annual Lights Out iPPV! Featuring Dragon Gate and AEW star PAC (fka WWE's Neville) alongside three Championship matches and many of your regular Defiant favourites, including Leeds' own Rampage! Those in attendance will also witness the taping of an episode of our weekly show, Loaded, to be aired Sunday 21st April.
You can be there in person with general admission tickets still available starting at £16 from Eventbrite. Limited tickets to meet PAC are also available, where you will be able to have a professional picture taken with and have an item of yours signed by the man himself.
Watch online with Access Defiant, with a 30-day free trial for new customers. Monthly membership after your free 30-day trial is £7/$8.99 a month. Access Defiant benefits includes the back catalogue of Defiant and WCPW shows, all future events including No Regrets 2019 on May 25th , Built to Destroy on June 29th , as well as ticket discounts and exclusive bonus content!
This show will be broadcast live, with an approximate start time of 7pm. The high-resolution replay will be available approximately 24-hours later.
Rory Coyle (C) vs Rampage - Defiant World Championship
Following his shock victory at Defiant's last iPPV, Rory Coyle though he had rid Defiant of Rampage, much like he rid Defiant of Primate. Coyle even went so far as to hold a "funeral" for Rampage, but the longest reigning and former champion Rampage crashed it, and after defeating former #1 contender Justin Sysum, Rampage gets his chance at revenge in his hometown, but it is likely Rory Coyle has a trick or 2 up his sleeve again to try and stop Rampage. In a huge rematch, who will walk out with the top prize in Defiant Wrestling?
Kanji (C) vs Lizzy Styles - Defiant Women's Championship
Unfortunately unable to defend her championship at Magnificent Seven, Kanji is now back to full health, and will take on the impressive, and as yet undefeated Lizzy Styles, who has made it her mission to take out the "fakes" in the Defiant Women's division. Defeating Laura Di Matteo to get this shot, Lizzy already holds a victory over Kanji, and the champion goes into this match as the underdog. Can Kanji continue to defy the odds and prove to herself and to the fans she deserves to be champion, or will Styles take what she sees as rightfully hers?
Martin Kirby (C) vs Sean Kustom - Defiant Internet Championship
After Lucky Kid's untimely injury, Martin Kirby was left without a current challenger, but General Manager Prince Ameen wasn't going to let Kirby have the night off. Coming in to challenge the Defiant veteran for the championship is a brand new face in Sean Kustom, an Australian who since moving to the UK a few years ago has been making his name up and down the country. This may be Kustom's biggest chance to shine yet, and he's going to do whatever he can to overcome Kirby, although the defending Internet Champion isn't going to go down without a huge fight.
PAC vs El Phantasmo
Battling his way through a gruelling fatal 4 way featuring some of the best talent Defiant has to offer, El Phantasmo came out victorious, and earned this marquee match against one of the best wrestlers not only from England, but in the world, in PAC. The Open the Dream Gate Champion is 2-0 in Defiant, but in El Phantasmo may face his toughest challenge yet. In a match with two competitors able to do jaw dropping high-flying feats, it is almost impossible to say who will wins, except that the fans will win seeing this amazing match.
Dynamic Duo vs Jody Fleisch and Jonny Storm
In a generational clash, the teenage Dynamic Duo of brothers Tom and Mark Billington take on the British legends of Jody Fleisch and Jonny Storm. Being trained by the legendary Marty Jones and being related to Dynamite Kid, the Dynamic Duo are no slouches, and are incredible athletes, but Fleisch and Storm will want to prove they have what it takes to compete at the top level still. Will this be a passing of the torch to the Dynamic Duo, or will Fleisch and Storm show why they are both pioneers of a generation of British Wrestling?
David Starr vs Gabriel Kidd
A match more than 2 months in the making. After dispatching of John Klinger on Loaded, David Starr will finally get his hands on Gabriel Kidd, the man who attacked him and ruined what could have been a Defiant classing between Starr and Joe Hendry. Following what can best be described as a mugging following a tag match the two were involved in, Kidd seems to have the upper hand over the wildly popular Starr, and questions must be asked if he will be 100%. Either way, Starr is not a man to back down from a fight, and with the bad blood between the two, this one could explode.
Joe Hendry vs John Klinger
What happens when you pit a Commonwealth athlete against one of Europe's most dangerous wrestlers? We find out at Lights Out, when British Amateur Wrestling Champion Joe Hendry goes up against John "The Badness" Klinger. Formerly known as Bad Bones, Klinger has been a thorn in the side of Defiant management for months now, and they have dispatched Hendry, a mainstay in the company, to take care of him. Add in some bad blood via a post-match beatdown by Klinger, and this has all the makings of a brutal, hard hitting match.
Mark Haskins vs Robbie X
Two men who haven't had much luck recently in Defiant will go one on one in this match up. Mark Haskins, who has recently lost his tag team partner Jimmy Havoc to AEW, goes up against Robbie X, who despite impressive performances, has struggled to get any momentum recently. After defeating Man Like Dereiss recently on Loaded, Robbie X managed to get a shot at Haskins, and with the 2 men both supremely talented, you'd have to think the winner of this match will have gold in his very near future.
Watch Live Wednesday, April 17th with Access Defiant or be there live with tickets from Eventbrite.