Defiant Wrestling Presents No Regrets '19: Full Card Rundown & How To Watch
Third annual No Regrets, broadcast live on Saturday May 25th from Manchester Academy, Manchester.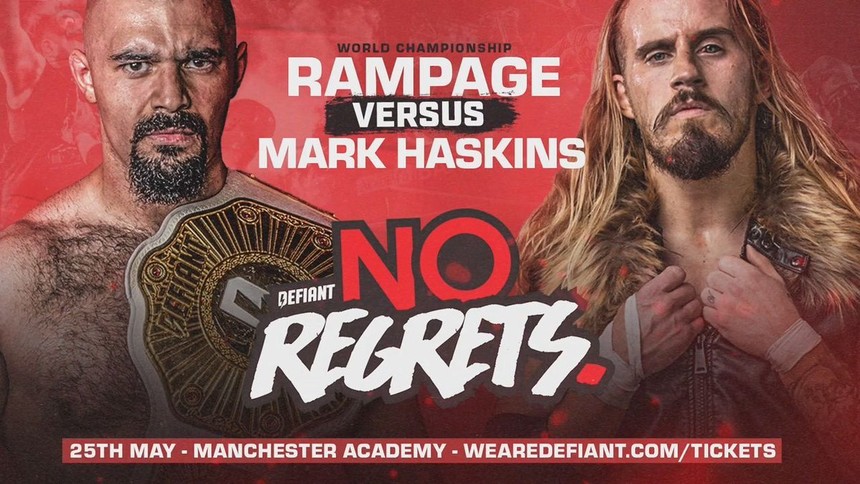 Watch live with Access Defiant, free 30 day trial for new customers) or be there live from Manchester, tickets available from Eventbrite.
Defiant Wrestling returns to Manchester and the Manchester Academy for the second time this year, presenting the third annual No Regrets iPPV! Featuring the 3rd ever No Regrets Rumble, a 30 wrestler rumble, alongside three Championship matches and many of your regular Defiant favourites, including WoS Wrestling stars Rampage, Joe Hendry, Martin Kirby and Gabriel Kidd, Ring of Honor regular Mark Haskins, WhatCulture Wrestling's Simon Miller, and Manchester's own Lana Austin!
Be there in person with tickets still available starting at £19 from Eventbrite.
Watch online with Access Defiant, with a 30-day free trial for new customers. Monthly membership after your free 30-day trial is £7/$8.99 a month. Access Defiant benefits include the back catalogue of Defiant and WCPW shows, all future events including Built to Destroy on June 29th as well as ticket discounts and exclusive bonus content!
This show will be broadcast live, with an approximate start time of 6:30pm BST. The high-resolution replay will be available approximately 24-hours later.
No Regrets Rumble
The namesake of this show, the No Regrets Rumble is a 30-wrestler match. 2 wrestlers start the match, and after a certain amount of time, a new wrestler enters the match, with new wrestlers continuing to appear until 30 wrestlers have entered the match. In the No Regrets Rumble, elimination can occur via the traditional over the top rope method, as well as through pinfall or submission within the ring. The winner of the match will head to Defiant's anniversary show Built to Destroy, to compete for the Defiant World Championship!
The No Regrets Rumble is the most unpredictable match of the year, with anyone able to enter. In the past we've seen both men and women, surprise debuts, surprise returns, both former and current champions, and even an inflatable! In the past the match has devolved into a dance contest and had a competitor spend most of the match on commentary, amongst other things.
With over half of the field yet to be confirmed, there is room for many surprises. So far confirmed is 2x runner up Joe Hendry, #1 and #30 spots in David Starr and Gabriel Kidd (still to be decided who has which), current Defiant Women's Champion Lizzy Styles and even General Manager Prince Ameen, amongst others. However, with the prize so big, expect many of the biggest names in Defiant to appear, including Defiant No Fun Champion No Fun Dunne, Defiant Internet Champion and x2 No Regrets Rumble winner Martin Kirby, Chris Brookes, Rory Coyle and more.
This match is impossible to predict with so many factors in play, and with so much luck involved in which number a wrestler draws, but with the prize on offer for winning, expect the entire Defiant roster and some not so regular faces put it all on the line for their chance to headline Built to Destroy!
Rampage (C) vs Mark Haskins - Defiant World Championship
What originally seemed like it would be a competitive but respectful match between two of the best in Britain for the Defiant World Championship has, after recent events, evolved into nothing of the sort. Rampage, the defending champion, has had a change of heart recently, aligning himself with the chaotic Rory Coyle. After winning a gruelling triple threat match to become #1 Contender, Mark Haskins, who has recently stepped out on his own in Defiant, decided to confront the changed Rampage during their contract signing. The resulting beatdown by Coyle and Rampage, including a piledriver to Mark's wife/manager Vicky whilst Haskins was forced to watch, has made this one extremely personal. Who will come out on top in this battle and head into Defiant's anniversary show on top of the mountain, and how will the potential x-factor of Rory Coyle play into this match?
Lizzy Styles (C) vs Lana Austin - Defiant Women's Championship
In a battle of Liverpool vs Manchester, it's clear who the crowd will be behind in this match. Lizzy Styles has been untouchable since her debut the last time Defiant visited Manchester and has made sure to rub it in everyone's face. Undefeated since her debut, she finally captured the Defiant Women's Championship last month at Lights Out, defeating her No Regrets opponent, Lana Austin. Austin has been after the championship for almost a year now with numerous near misses in that time, but with her hometown crowd behind her, this could be Austin's best opportunity yet. This promises to be a close contest between two women who, after a short-lived alliance, have become bitter enemies, with both desperate to be Defiant Women's Champion. Add in a historic city rivalry to Styles and Austin's personal rivalry, and it has all the makings of a classic.
David Starr vs Gabriel Kidd - #1 vs #30 in the No Regrets Rumble
A rivalry that has been going on for a few months now, David Starr and Gabriel Kidd will do battle one more time, with a big stipulation. After drawing #1 (Starr) and #30 (Kidd) for the No Regrets Rumble, Kidd decided to request another match against Starr. General Manager, and former friend turned enemy of Kidd, Prince Ameen gave Kidd the option of the match, but with the condition the winner gets #30 and the loser gets #1. After victory last month at Lights Out in their previous encounter, Gabriel Kidd was confident enough to accept the match, vowing to make sure Starr wouldn't even make it to the Rumble match. David Starr, perceived to be a nearly man in Defiant Wrestling, has been given a golden opportunity to improve his odds in the Rumble, and will be doing everything he can to defeat his rival. The stakes couldn't be higher, and with the hatred between the two added to the mix, expect both men to go all out to gain the win.
South Coast Connection (C) vs Team Whitewolf – Defiant Tag Team Championships
After controversially ending the longest Defiant Tag Team Championship reign in Defiant history, the South Coast Connection (Ashley Dunn and Kelly Sixx) have done everything they can to retain those championships, winning by any means necessary, including any cheating they can get away with. One of those victories includes defeating Team Whitewolf (Carlos Romo and A-Kid), an exciting new tag team to Defiant's roster from Spain. Defeating Team Whitewolf with the help of their championship title, SCC remained champions. However, after seeing how it went down, Defiant General Manager Prince Ameen has given Romo and A-Kid a rematch at No Regrets. Now knowing the kinds of tricks that Dunn and Sixx are capable of and are likely to employ, can Team Whitewolf come out on top, or will the South Coast Connection be able to hold on to their championships and live to fight another day?
Simon Miller vs John "The Badness" Klinger
This may be Simon Miller's first singles match since an injury that kept him out for the most parts of a year, but he'd better hope he hasn't lost a step after challenging the extremely dangerous John Klinger. Since returning to Defiant, John Klinger has been a constant thorn in the side of management, which used to include Miller. After resigning from his role as assistant General Manager last month, and winning his return match recently on Loaded, Simon Miller has decided that he will deal with the Klinger problem. Why? Here's why! After many others have tried to deal with the problem, Miller has decided if no one else can, he will. This won't be an easy match, with Klinger one of the most dangerous men in European wrestling for a reason. Can Simon Miller overcome "The Badness" or will it be a down for WhatCulture's Miller in his first singles match back?
Watch Live Saturday May 25th with Access Defiant, or be there live with tickets from Eventbrite.