Defiant #12 Recap: A Shocking Turn And New Champions Crowned
Jimmy Havoc turns on Primate and hands Aussie Open the Defiant Tag Team Championship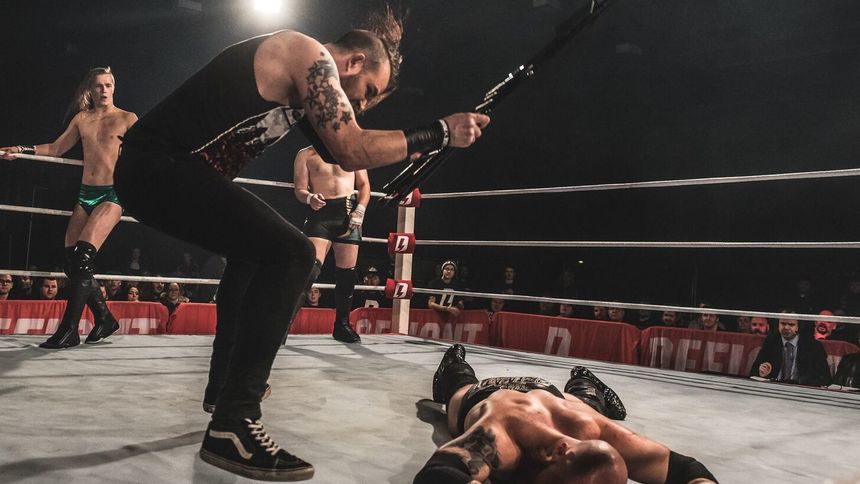 Jimmy Havoc's shocking actions in the scheduled main event of Defiant #12 had wide-reaching consequences that reverberated around the entire company.
Havoc and Primate were set to defend their Defiant Tag Team Championship against number one contenders Aussie Open, who had earned their shot by defeating the South Coast Connection two weeks earlier. Just as the match was about to begin, Havoc whacked Primate in the back with a chair then proceeded to beat seven shades out of him with it.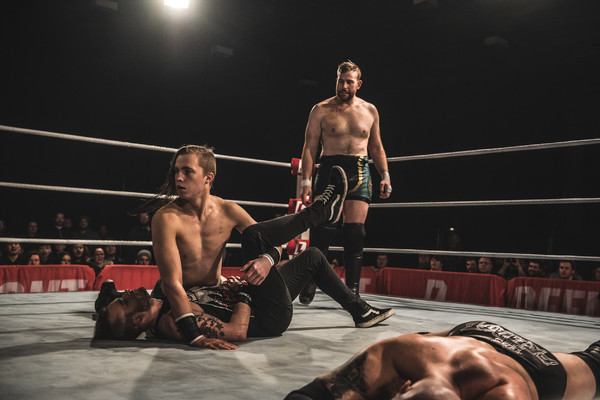 As the crowd - and Aussie Open - looked on in shock, Havoc grabbed the microphone and declared that he was sick of Primate "riding his coat tails" and that their unlikely union was done. Havoc then then voluntarily dropped to the mat and allowed Kyle Fletcher to pin him, making Aussie Open the new champions in highly controversial circumstances.
As Havoc was leaving the ring, Mark Haskins appeared from nowhere and began to lay waste to his former Team IPW teammates with a chair. Havoc returned, seemingly to confront Haskins, but then, suddenly, the situation became clear: Havoc and Haskins were working together. Given Havoc missed Chain Reaction when he was scheduled to represent Team Defiant in the main event, it seems highly likely that they were in cahoots all along.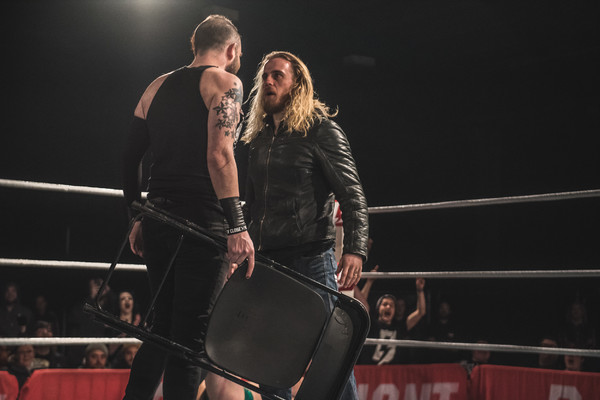 Havoc and Haskins took out the new tag champs, then Havoc declared Haskins as his new partner, vowing to take on Aussie Open for the tag belts and beat them to regain his gold. Whether Havoc's plan is genius or insanity will be seen at Lights Out on March 19th, when the newly formed duo challenge for the belts.
However, they are not the only ones. Joe Coffey and BT Gunn spoke to Defiant Wrestling GM Stu Bennett after witnessing the changing of the guard, and noted that despite having lost their previous tag match against former Prestige team mates Joe Hendry and El Ligero, they had previously defeated Aussie Open. With Bennett owing Gunn a favour for his help in Defiant vanquishing Team IPW at Chain Reaction, he added them to the tag title match at Lights Out.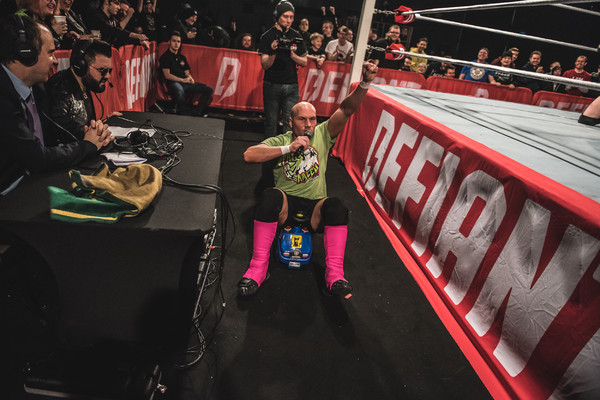 Elsewhere on the show, there were two major upsets in the Magnificent 7 qualifiers, as the field for the Lights Out headliner was confirmed. In the first bout between Prince Ameen and No Fun Dunne, Martin Kirby paid back the anti-fun chief for costing him the Defiant Championship last week by cycling to the ring on a children's police scooter in his best Undertaker circa 2000 impression. Utterly bewildered by Kirby's antics, Dunne was caught unawares by an Ameen roll up. Ameen celebrated in the crowd with "his people" following the victory. His appearance in the Magnificent 7 match will mark his first ever Defiant main event. Later in the show it was also confirmed that Kirby and Dunne will meet one-on-one at Lights Out.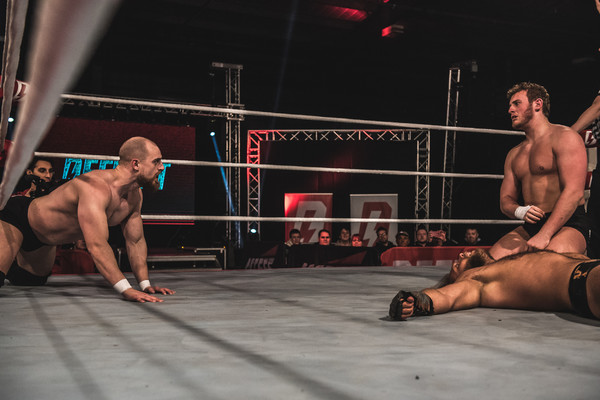 In the final qualifier, Gabriel Kidd was supposed to square off against Jurn Simmons in a rematch from Chain Reaction. However, Zack Gibson managed to talk his way into the bout, making it a three-way, after arguing with Stu Bennett that his defeat to Primate last week should not have counted because the referee called for the bell before he was ready. Willing to do anything to shut Gibson up, Bennett inserted him into the match.
Unfortunately for Gibson, things did not quite work out the way he had hoped. Having been thrown out of the ring, 'Liverpool's Number One' was unable to regain his bearings quickly enough to return and prevent Kidd from pinning Simmons with a Ganso bomb, giving Defiant's resident underdog a big win that sends him into the Lights Out main event.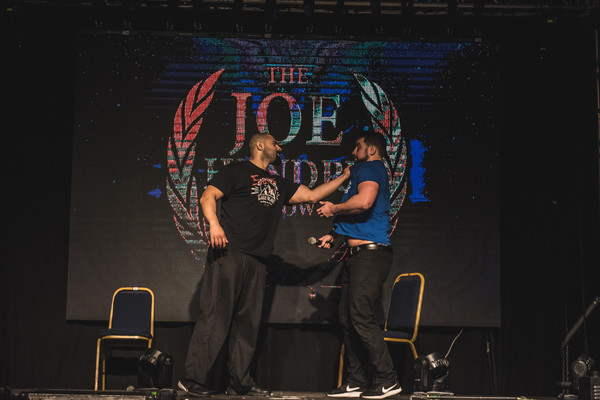 Three of the Magnificent 7 competitors engaged in a bout of fisticuffs after Joe Hendry's second attempt at The Joe Hendry Show went awry. Refusing to let his guest Rampage speak, Hendry ended up on the receiving end of a punch to the mouth and was about to receive a piledriver until lackey El Ligero made the save. Hendry soon scarpered when Rampage rallied, and it was Ligero who ended up taking the piledriver. Seeing an opportunity, Hendry jumped into the ring and drilled Rampage with a low blow before hightailing it out of the building. Rampage will be gunning for revenge come Lights Out.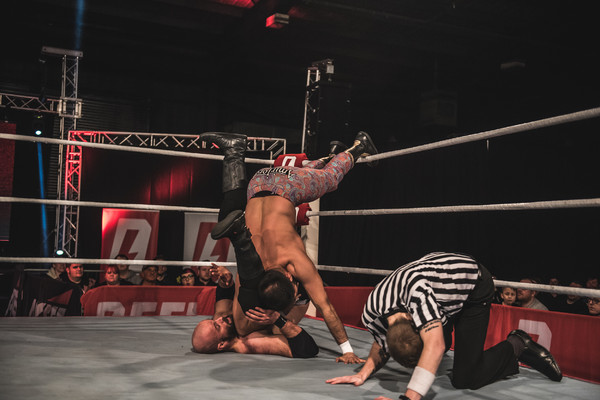 Earlier in the night, Amir Jordan and Drake battled again in one-on-one action following on from their Chain Reaction match that Drake won in unfair fashion with his feet on the ropes. Jordan earned a measure of revenge, defeating Drake in the same manner to give him a taste of his own medicine. Drake will be livid that he was defeated by a "gimmick wrestler" like Jordan and at Lights Out he will no doubt have plenty to say about it.
Tickets to see Lights Out live in Leeds are available here, while you can watch 24-hours later on Access Defiant and Fite TV.