Built To Destroy '19: Full Card & How To Watch
Defiant Wrestling presents Built To Destroy, broadcast live, Saturday June 29th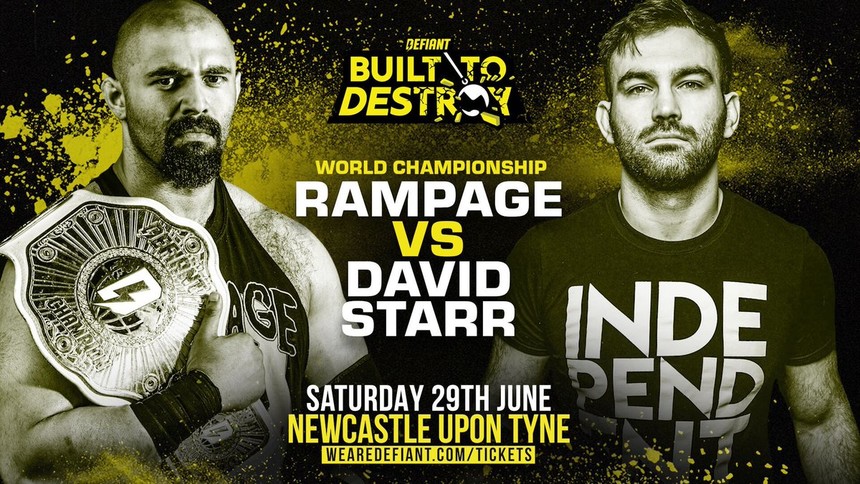 Watch live with Access Defiant or be there live in Newcastle, tickets available from Eventbrite.
Defiant Wrestling comes home to Newcastle for the season finale, presenting the fourth annual Built to Destroy iPPV from Northumbria University! Featuring the winner of the No Regrets Rumble David Starr facing off against Defiant World Champion Rampage, and many of your other Defiant favourites in matches including a Ladder and a Last Woman Standing Match!
Be there in person with tickets still available starting at £16 from Eventbrite.
Watch online with Access Defiant, available for £7/$8.99 a month. Access Defiant benefits include the back catalogue of Defiant and WCPW shows and exclusive bonus content!
This show will be broadcast live, with an approximate start time of 7pm BST. The high-resolution replay will be available approximately 24-hours later.
Rampage (C) vs David Starr - Defiant World Championship
What a way to cap off a season finale. A story that has been brewing since before the return of Loaded will finally come to its climax, with David Starr getting a second one on one match with Defiant World Champion Rampage. Last time these 2 men competed was back in February at Unstoppable, and since then Starr has had to scratch and claw his way back to championship contention. However, he faces off against a very different man, with the Rampage he last faced being replaced by a completely different monster, under the influence of Rory Coyle. Fortunately for Starr, he defeated Coyle and as such, the match should be interference free, but can anyone trust Rory Coyle? Whether or not Coyle is involved, Starr still faces an uphill challenge against the most dominant Defiant World Champion in history, at his most dangerous. Can Starr finally win the big one, or will his No Regrets Rumble win prove to be a flash in the pan for a man trying to shake the "nearly man" stigma?
Lizzy Styles (C) vs Lana Austin - Defiant Women's Championship, Last Woman Standing match
Last month, Lizzy Styles was undefeated, had run roughshod over the entire division, and looked absolutely peerless. A month is a long time, however, and since then, she only just survived Lana Austin at No Regrets, causing an intentional DQ to retain her title mere moments before Austin made her tap out, and then on Loaded she was pinned for the first time in Defiant against her biggest rival. Following this loss, Styles put out a challenge to Austin, who eagerly accepted. The challenge? A Last Woman Standing match. Styles has the benefit of having boyfriend CJ Banks who will be able to provide help, having recently made his own Defiant debut recently, as well as the use of her trademark scarf which she uses so often, but Austin is no newcomer to this sort of match either, being well known for using a chair to her advantage. In what has become a hugely heated rivalry, it seems to be do or die for Lana Austin, but which woman can incapacitate her opponent for the 10 count?
Martin Kirby (C) vs Joe Hendry - Defiant Internet Championship
For the first time since last years Refuse to Lose, Joe Hendry and Martin Kirby will do battle once again. Possibly the most recognised rivalry in the history of Defiant Wrestling, Hendry and Kirby will do battle for a title once again. Despite coming out on top in all previous championship matches between the men, Hendry lost his last match to Kirby, being forced to say "I Quit". That moment proved to be a critical moment in both men's Defiant careers, with Kirby going on to win the Defiant Internet Championship soon after, and with a newfound attitude of refusing to defend for free, has managed to keep hold of the belt. Hendry on the other hand, has re-endeared himself to the fans after so long. Kirby has the recent victory, Hendry has the title match pedigree, but when 2 of Defiant's originals face off one more time, who will become Internet Champion, and who is Built to Destroy?
South Coast Connection (C) vs Benji & Visage - Defiant Tag Team Championships, Ladder match
Since winning the titles back in March, SCC have pulled off every little trick in the book to keep winning and keep hold of their titles. Their most recent trick involved tricking a referee into believing Benji used his Magnificent Seven briefcase to hit Ashley Dunn in the face. The referee fell for the trick, and so to did Conor Renshaw. Angry at the fact that he believed Benji had cheated and cost them a shot at the Tag Team Championships after Benji had stopped him cheating, Renshaw snapped, bringing Visage in to make the save. Visage, a friend of Benji, had been wary of Renshaw since the beginning, and was proven right. Following the match, Benji decided to cash in his Magnificent Seven briefcase, choosing Visage as his partner in a Ladder match. Can Tuck Shop 3.0 (named after Visage's former tag team with the now injured Jack Sexsmith) manage to pull off the upset, or will the well oiled machine of Dunn and Kelly Sixx dash Benji's Magnificent Seven dreams? Who will climb the ladder and call themselves Defiant Tag Team Champions?
No Fun Dunne (C) vs HT Drake - Hardcore/No Fun Championship
A match where the title's name is up for debate is always likely to be a complicated story, and this is no exception. Since becoming Defiant Hardcore Champion by defeating his then ally HT Drake, No Fun Dunne has rebranded the belt to the No Fun Championship, with it's own personal stickers. The match for the belt comes at the end of a long standing alliance between Dunne and Drake, stretching back to October. Formerly brethren in the Anti-Fun Police, due to an obsession with Simon Miller, Drake's actions in attacking Simon led to the Anti-Fun Police having to return to Defiant, and Drake had to be punished. Refusing to take the punishment lying down though, Drake fought back against Dunne and fellow Anti-Fun Police member Santos, which ended up with Drake gaining some revenge in the No Regrets Rumble by eliminating Dunne, before then being eliminated and injured with a brutal attack to the hand. Is Drake even 100% for this match? He better hope he is, or Defiant may have a No Fun Championship for a very long time.
Simon Miller vs Nathan Cruz - Ups and Downs match
In a match with rules that need to be explained, it is our duty to do so. In an Ups and Downs match, you gain a point by either a pinfall (a down) or throwing your opponent over the top rope (an up). The winner of the match is the person with the most points after a 15 minute period. The first ever Ups and Downs match will be contested between Simon Miller (who's show the match is named after) and Nathan Cruz, with this match coming about after some choice words on Cruz's behalf. Miller, in his first ever title match, took Martin Kirby to the limit, but this was clearly not enough for Cruz, who claimed Miller should "burn his boots" and doesn't belong in the ring, instead belonging behind the camera on YouTube. Miller obviously took offence to this, and challenged Cruz to the match. In a match both men may struggle to prepare for due to the uniqueness, who will come out with the most Ups and Downs?
Lucky Kid vs Man Like Dereiss
Two young men with a point to prove in Defiant will go one on one in a match which could be a dark horse for MOTY. Man Like Dereiss, who after a long streak of losses has finally hit a purple patch with 2 wins in his last 2 matches (ignoring the No Regrets Rumble) has wanted to prove himself here in Defiant. He has that opportunity at Built to Destroy, going up against Lucky Kid, one of Europe's brightest young wrestling talents. No stranger to Defiant, Lucky Kid was even a competitor in the WCPW World Cup, but didn't make it very far. Now a wiser, better competitor, Lucky Kid wants to show why he is so well regarded, and after a tumultuous few months in Defiant which included a restraining order and then a title match that never happened due to injury, he returns to Defiant at the top of his game. In a battle of the 450 splash, which star of the future will prove that their future is right now?
Watch Live Saturday June 29th with Access Defiant, or be there live with tickets from Eventbrite.