Martin Kirby Wins Championship Rumble To Become New WCPW Champion
Kirby claims WCPW title after seeing off all 29 other competitors at No Regrets.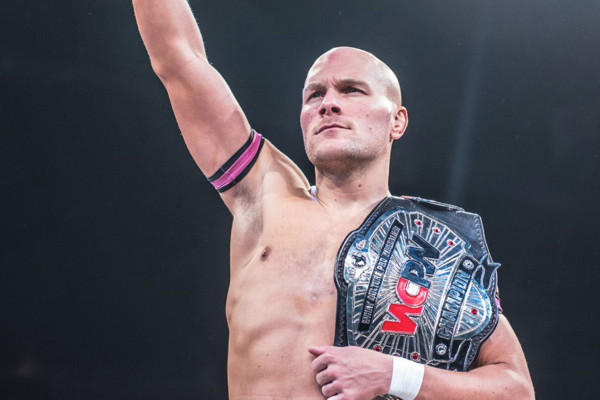 Martin Kirby entered the WCPW Championship Rumble on Saturday at No Regrets at the almost impossible number two slot - but overcame all 29 other competitors to claim the WCPW Title from Drew Galloway.
Galloway - who had already declared himself in the number one slot - was joined in the ring by Kirby, the second entrant. Both lasted close to 60 minutes in the epic match. Galloway was finally eliminated by Joe Hendry, who hit the now former Champion with his own Future Shock DDT for the pinfall. Hendry then immediately set up Kirby for the Freak Of Nature, but Kirby somehow managed to free himself and hit The Prestigious One with an enziguri before calling for the Zoidberg Elbow, which had previously never been hit.
The crowd in the Sport Central Arena rose to their feet in anticipation, in parallel with Kirby as he ascended to the middle rope, and erupted as Kirby finally hit the move flush for the first time ever and claimed the 1-2-3 on the stunned Hendry.
Earlier in the night, Gabriel Kidd emerged with his first ever WCPW gold when he dethroned long-reigning Internet Champion Cody Rhodes in a suspenseful Triple Threat match also involving Hendry. He was not the only man - well, woman - to make history on the night; Brandi Rhodes shrugged off Prince Ameen's to win WCPW's first ever singles inter-gender contest. She also won Ameen's respect; he embraced her in a sportsmanlike gesture after being comprehensively outwitted.
The Great Battle of Mexico was decided by the legendary Rey Mysterio, but it wasn't plain sailing. El Ligero took him to the limit in an athletic and acrobatic war before eventually succumbing.
The opening contest on the main show saw Travis Banks narrowly defeat Penta El Zero M in a back and forth, high energy battle. Before that, the team of Juventud Guerrera and Rey Fenix saw off Drago and El Hijo de Dos Caras after an almost frightening parade of daredevil stunts.
If you missed the event, don't fret; the show is available on demand on whatculture.com/extra.
Attention now must turn to the Mexican leg of the Pro Wrestling World Cup, which airs this coming Friday... free on YouTube.