Magnificent Seven Match To Headline Light's Out
The battered briefcase makes its return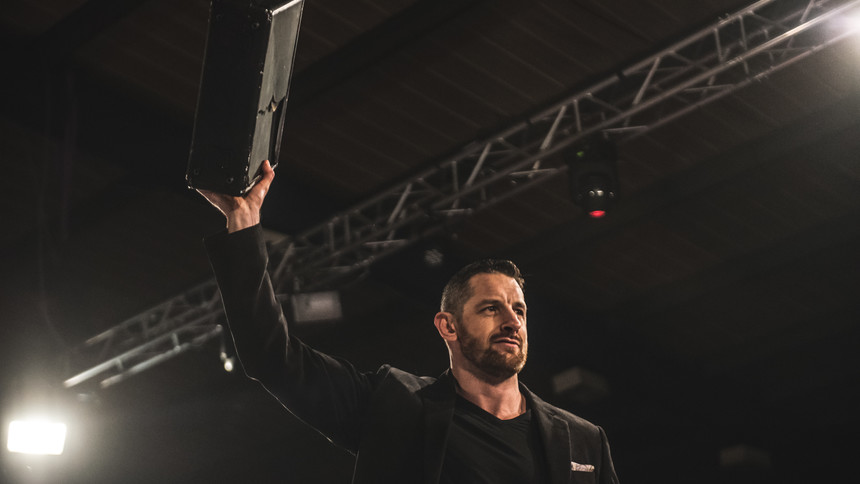 Following the chaos of the five-on-five main event at Chain Reaction, Stu Bennett had plenty of business to take care of at the start of Defiant #10. After declaring that Austin Aries would defend his Defiant Championship against Martin Kirby at Defiant #11 on March 2nd, the GM noted that a new number one contender would be required to battle whichever of the two men emerged victorious.
Bennett then revealed the Magnificent Seven briefcase - looking somewhat worse for wear after the battering it took from former holder El Ligero - and announced that the Magnificent Seven match would return at Light's Out on March 19th. The winner of that match earns the briefcase, which contains within it a contract for a Defiant Championship shot.
Last year's Magnificent Seven match took place at Bulletproof: Championship Showdown, with Martin Kirby defeating BT Gunn, Doug Williams, El Ligero, Marty Scurll, Travis Banks and Ricochet to win the inaugural match-up. Kirby was later screwed out of the contract by El Ligero at anniversary show Built To Destroy 2017, but Ligero then dropped it to Marty Scurll (after abusing the poor briefcase at every turn) at Refuse To Lose 2017 before he could cash it in. Scurll wasted no time taking advantage of the opportunity, cashing in that night during Joe Hendry's title defence against Will Ospreay, tapping 'The Prestigious One' to capture the gold.
By Bennett's decree, six of the competitors in this year's Magnificent Seven will be determined by six qualifying matches, in addition to a wildcard joining the bout from Stu's "extensive book of contacts". The first qualifier took place in that night's main event, as Rampage overcame Mark Haskins to book his place in the match.
At the end of the show Joe Hendry and El Ligero paid Bennett a visit in his office to argue their case for being co-picked as the wildcard entrant due to Hendry's status as the longest reigning WCPW/Defiant champ in history, and because of El Ligero's own past with the briefcase. Bennett refused to acquiesce, but he did insert them into the qualifiers, pitting them as a team against former Prestige partners Joe Coffey and BT Gunn on the following week's broadcast. Both of the winners will make the final bout.
In another qualifier taking place on Defiant #11, Zack Gibson - fresh of his controversial victory over Rampage at Chain Reaction - will battle one half of the Defiant Tag Team champions Primate. The final qualifiers will take place at Defiant #12 on March 9th.
Tickets to see Light's Out live in Leeds are available here, while you can watch 24-hours later on Access Defiant and Fite TV.