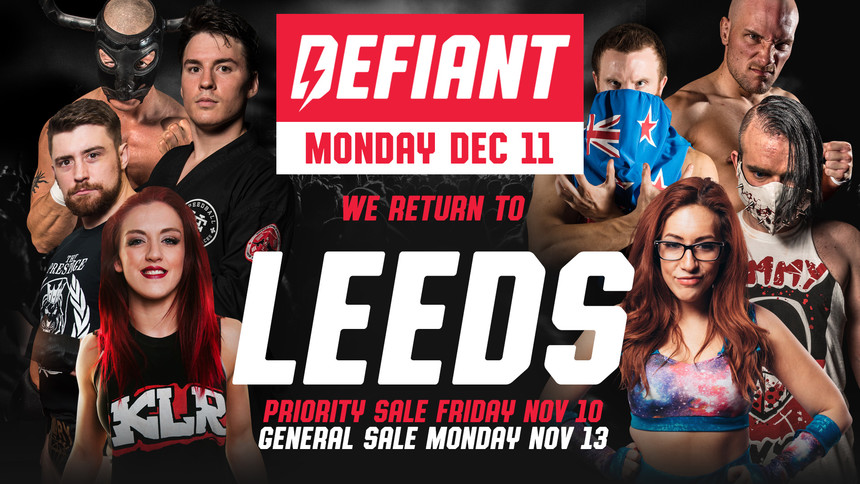 Leeds Is Defiant
General sale begins Monday, November 13th. Click here for tickets.
Leeds is Defiant! On December 11th, Defiant Wrestling (recently rebranded from WCPW) returns to Leeds. Featuring Kay Lee Ray, Jimmy Havoc, Mike Bailey, David Starr, Primate, Travis Banks, Martin Kirby, El Ligero and MANY more. There will be some BIG name surprises appearing on this show, which will not be revealed until the week before.
You will be sent a physical ticket for this event. Your EventBrite confirmation is NOT your ticket.
CONFIRMED TO BE IN ACTION
Kay Lee Ray
Primate
Jimmy Havoc
Martin Kirby
El Ligero
Joe Hendry
Travis Banks
Veda Scott
Liam Slater
Joe Coffey
BT Gunn
Alex Gracie
Gabriel Kidd
David Starr
Mike Bailey
and MANY more, including some BIG surprises.
Tune in to our first PPV event the week prior (follow @DEFIANTwres on Twitter for more details as they are released) from Newcastle.
TICKET INFO
Tickets are banded by row, but not individuals seats. You may sit anywhere in the row. General admission does NOT include a seat. Customers found to be sitting with a general admission ticket will be ejected.
Row 1 ticket holders receive early entry from 5.30pm. Row 1 does not include any other perks or meet and greets.
All tickets are non-refundable, except in the event of cancellation.
Tickets include 50p venue restoration levy.
This event has concluded.